Dog walking business reviews and referrals are like the engine in a car. If you're missing the engine, the car might still look nice, but it's not going to get you anywhere.
Pet care relies on word-of-mouth. Would you leave your kid with a babysitter just because they took out a full-page ad in the local paper? Your criteria is probably a little stricter than that, and it's the same with pet care. Building up a solid reputation from reviews and referrals is paramount to the success of your business.
There are a few places people will go to find out more about a business, and you should make sure you're present on all of them. Don't just stick to one and call it a day, you've gotta spread yourself around like a bee pollenating everything in sight.
Where to Leave Dog Walking Business Reviews
We're going to cover the big three: Google, Yelp, and Nextdoor. Each have their own market of millions, and each have their own advantages over the others. While their markets may overlap in many cases, it's still a good idea to get on all three rather than putting all your efforts into one. Besides, when your users write a review, they may be users of a particular one, and if you're not on it, you won't get a review. The typical person won't sign up to a new service just for you, unless you provide unbelievable service.
Google Reviews
If you don't have a Google Business listing yet, what are you waiting for? We've written about advertising your dog walking business which gives some other useful tips. Start by creating your free Google Business listing. Not only does it give users an avenue to write your dog walking business reviews, but it also puts you on the map. In other words, when someone searches for "dog walkers near me", if they happen to be close to you geographically, you'll appear. That in itself is an incredible advertising opportunity, since it targets your entire market.
Once you have your listing, anyone with a Google account (that's a lot of people) can leave a review.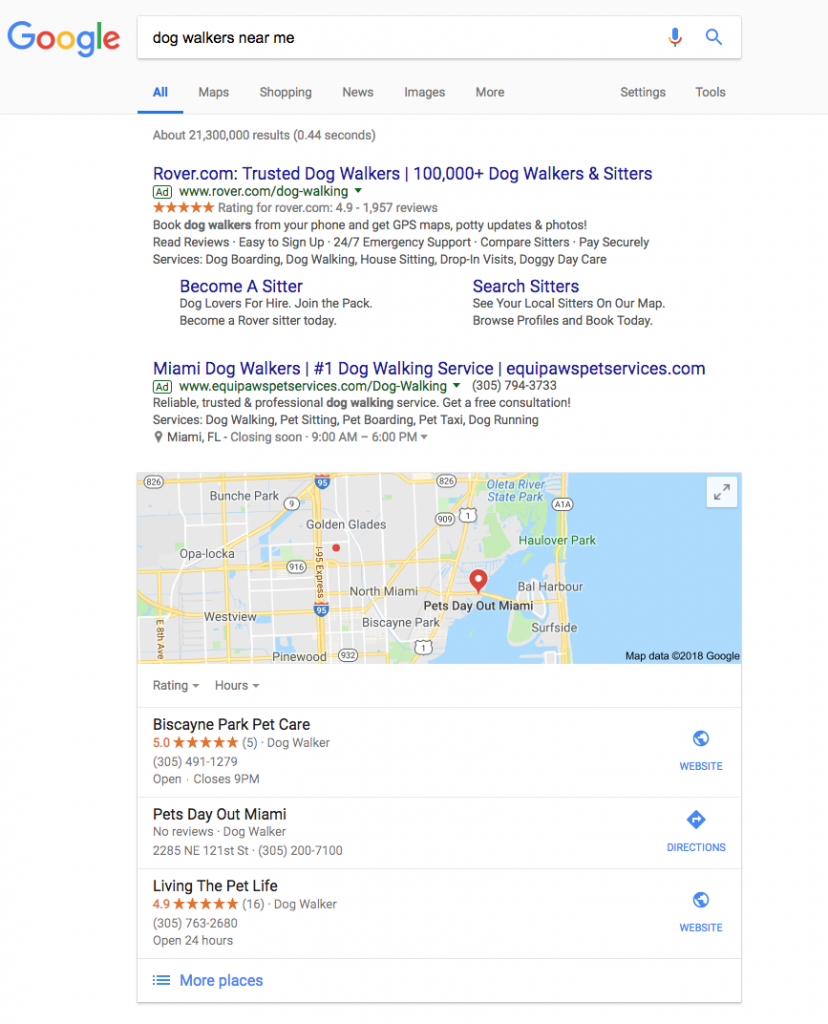 Yelp Reviews
When people think business reviews, they usually think of Yelp. That's why it's important to get your business listed on Yelp as well. They have different levels of service, but the free tools plan is all you need. Placing ads for dog walking services may not be in your best interest since the cost of them is may not be offset by the amount of work they'll generate. That's up to you to decide if it's worth it. Here are a few useful articles that may help you decide whether or not Yelp ads are worth it:
Are Yelp ads worth paying for? How to figure it out.
Advertising on Yelp: What you should consider.
A Candid Yelp Advertising Review – Is Yelp Ripping People Off?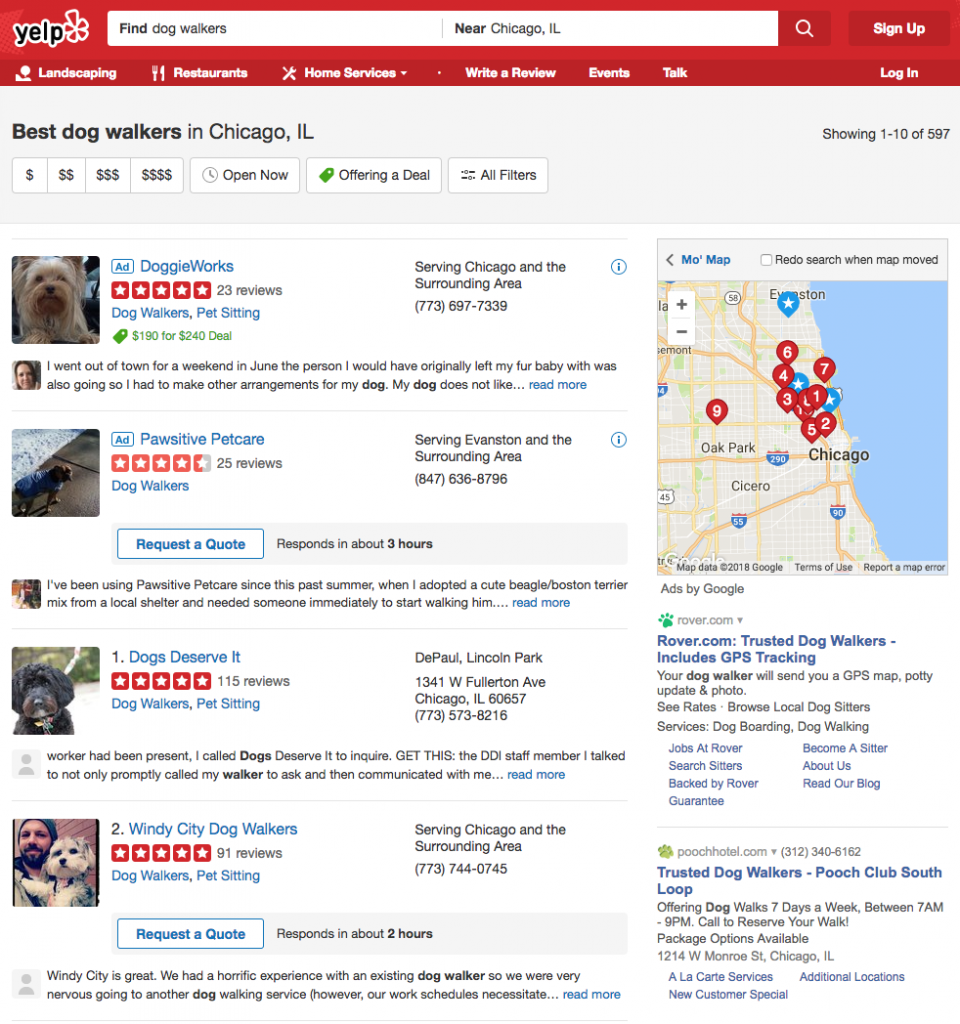 Nextdoor Reviews
While it's not exactly a review site, Nextdoor does allow people to recommend local businesses to their neighbors. Simply add your business on Nextdoor and your neighbors will be able to recommend it to everyone who lives in your neighborhood (and surrounding areas). This is extremely useful, since it only targets people close to you and serves as both a referral and a reference of sorts.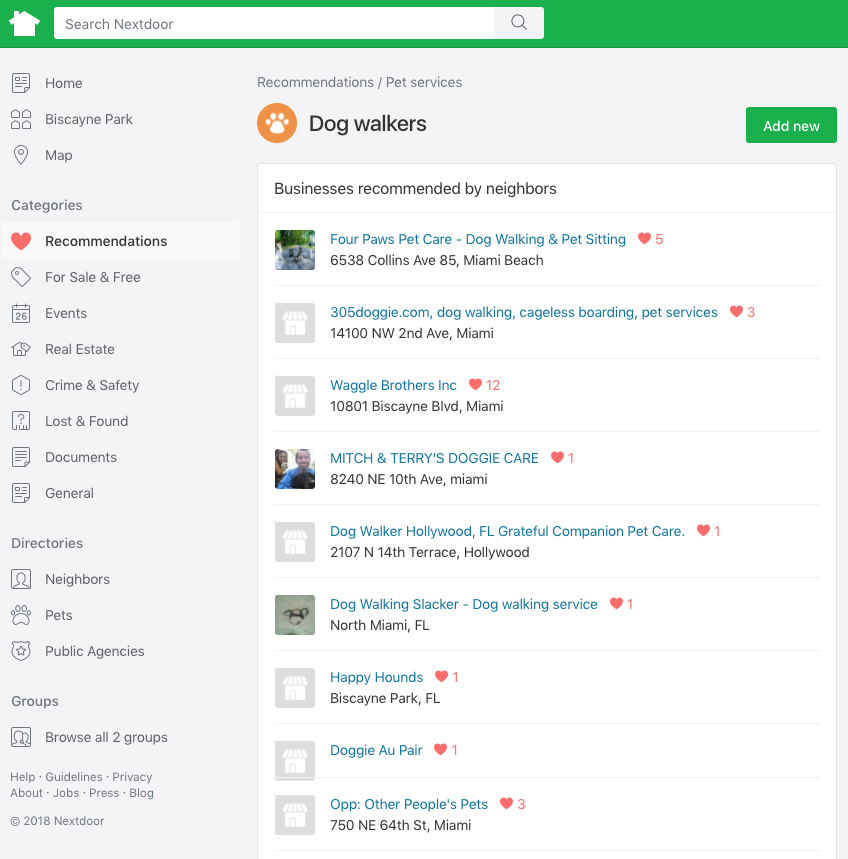 Asking Customers to Leave Reviews
This is apparently a controversial move to some. For example, Yelp explicitly states that you should not "ask customers, mailing list subscribers, friends, family, or anyone else to review your business." On the other hand, Google's official stance on reviews is that you should "remind your customers to leave reviews."
We agree with Google on this. Yelp's reasoning boils down to the way their recommendation algorithm works, to which we say: write a better algorithm. Google doesn't seem to have a problem, so Yelp needs to step it up.
At any rate, we recommend asking your customers to leave honest reviews. However, don't incentivize your clients to leave a review since the FTC has deemed it illegal [PDF] to do so.
Remind Your Customers
There are a few ways you can go about reminding your customers that dog walking business reviews are important to the success of your business:
Ask them in response to a praise. For example, if the customer tells you how happy you make their dog, let them know a review would really help you out.
After their first couple of services with you, ask your customers to provide you with an honest review.
Add a note on the footer of your outgoing emails about how you would appreciate a review.
While incentivizing a review is something you should avoid, there's nothing wrong with offering them a coupon with no strings attached, but adding a note about how you would appreciate a review. For example, you can send a holiday email with a coupon attached, and then end the email with "I would really appreciate if you can take a few minutes to leave me a review on Google".
Getting dog walking business reviews will increase trust in your business, so make sure you work on that as soon as possible and keep at it as you gain more customers.